Welcome!

Welcome! Thank you for visiting our website! We hope this site will help ensure your marketing goals through: (1) Consistency of your brand, (2) Single Sourcing, (3) Professional Project Management, and (4) Creative Ideas! Please feel free to look through any of our more than 250 digital catalogs by clicking on the link below:
WE ARE A CERTIFIED WOMAN-OWNED ENTERPRISE.
FEATURED ITEM!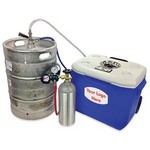 Bottoms Up Beer Unit
Originally only available for large concessionaires at stadiums, now this beer dispensing system is made in a portable Party Cooler version for home and small events such as company picnics, street fa...
$1,100.00 - $1,250.00
What Our Customers Are Saying

In this busy world of being treated like a NUMBER (which is my Pet Peeve), I have found two genuine professionals, Kim & David Blair, who put all their efforts into treating me like I am the only cust...

Browse our selection of Holiday Cards/Greeting Cards/Calendar Cards. We will be happy to customize these products with your information!